WHEN DANCE MEETS SONG: A DIPTYQUE OF FEMALE VOICES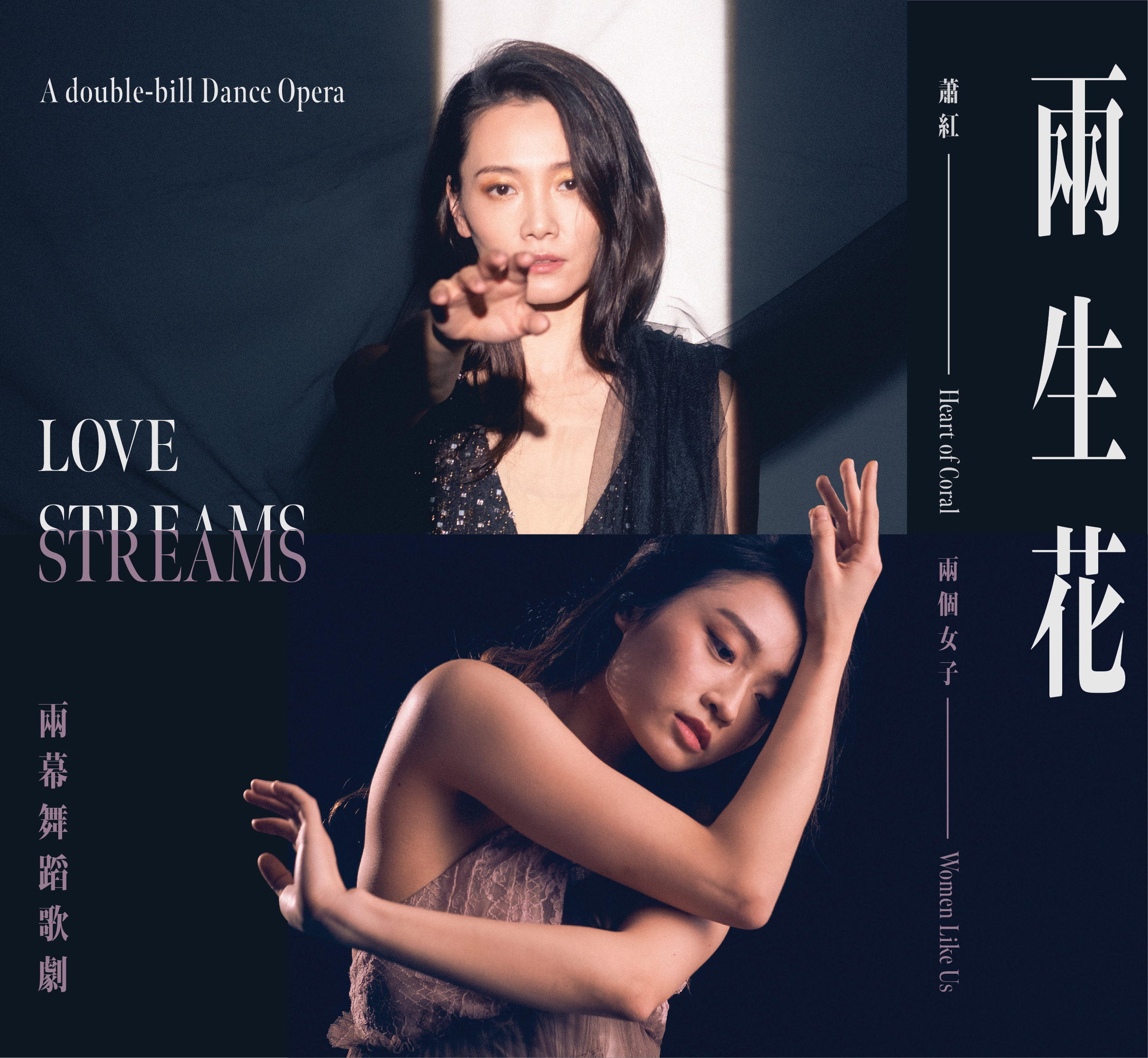 The theme of women battling adversity resounds through Heart of Coral and Women Like Us, two chamber operas previously staged at the Hong Kong Arts Festival, in 2013 and 2021 respectively. The two operas tell the stories of three women who strive in different times and circumstances, but whose lives are each shaped by the conflicts between love and fate. At the 50th HKAF, these three women will cross paths in a newly reconceived dance opera.
Love Streams is choreographed by Yang Yuntao, artist director of Hong Kong Dance Company. The work opens with Women Like Us, an opera by young composer Daniel Lo, which was adapted from two short stories by Xi Xi. The second half of the work is Heart of Coral, a chamber opera by Chan Hing-yan about the tragic life of the great Chinese modern writer Xiao Hong. Love Streams recounts the fates of women from two disparate eras—the urban ferment of 1990s Hong Kong and the upheavals of Republican China in the 1930s.
Yang has staged many productions that centre on women. He says that has not been deliberate, but rather a by-product of his humanistic artistic vision. If his work is to be examined from the perspective of gender, he thinks there are differences in his approach. "I like to reveal the vulnerability of men. When it comes to women, I am more interested in portraying their resilience." In Love Streams, Xiao Hong lives in a turbulent time and has to fight for survival, while remaining true to her quest for love. In Xi Xi's fiction, the women seem settled in their lives of comfort, but they nurse profound hesitations or even choose to compromise in the face of love. There is no question about Xiao Hong's resilience. What about Women Like Us? "I think the women in Xi Xi's stories torture themselves in a way, but it is a reflection of women's longing for love," Yang says. As he sees it, it is a kind of resilience.
Expressing these two different kinds of female resilience through dance presents a challenge. "The world of Xiao Hong is both vast and barren.
Xi Xi's stories zoom in on everyday life and its hidden crises," Yang says. "My work revolves around this atmosphere, and it is complemented with the use of lighting and stage elements. Text, music and lyrics are relatively concrete things. By comparison, dance employs physical language. This quality embodies messages and emotions that cannot be conveyed through figurative language, and it opens up a wider emotional space for the audience."
For the music, in addition to expanding the score, which will be performed by a 20-member ensemble, the two composers also made revisions and composed new parts. Lo thinks the music for the new production should evoke a greater sense of scale, in contrast to the 2021 production of Women Like Us. "Chamber opera is more intimate in nature, or you might even call it a bit 'condensed'. The previous performance was only an hour long, so I trimmed many of the instrumental interludes. But this production is a dance opera, and there has to be room for the dance. On the other hand, there are now twice as many musicians in the ensemble. I want to create more room for their performance, so I have also expanded the instrumental parts."
Chan Hing-yan has more experience in making Chinese-language opera, and he is also a mentor to Lo. "Heart of Coral was written nine years ago," he says. "Since then, I have written two other operas and various works of vocal music. I have many new ideas about how to combine music and Chinese, a monosyllabic and polyphonic language. So, when the HKAF approached me about rearranging Heart of Coral, I had already made the decision to rewrite certain parts. At first, I thought I would rewrite about 30 per cent of the score. But the creative process took on its own momentum, and about 90 per cent of the work has been rewritten by now." For Lo, presenting opera in the form of dance is a novel gambit and one that opens up fresh possibilities for the genre. "A work of art is a living thing that is constantly evolving," he says. "This work will be a new experience, even for people who saw the original chamber opera." Chan says he has confidence in the new production, and he believes dance opera is a more approachable form of expression than chamber opera. Furthermore, the life of Xiao Hong, with its tragic twists and turns, was highly dramatic.
Yang considers the relationship between the performing arts and audiences to be one unique to everyone watching. "When a spectator watches a performance on stage, there is a connection between them and the performer. They are in a space that exists only between the two of them; it is an exclusive and unique space. That is why a performance resonates differently with every audience member. There are no answers to many things in life, but we find a release in the arts. It is a release that happens both onstage and off."
Subscribe to the HKAF eNews and get connected with us!
By submitting this form, you accept and agree to be bound by the Terms of Use, Privacy Policy and Privacy Information Collection Statement available in Hong Kong Arts Festival Website.