THE PANDEMIC MIRACLE OF COLOSSUS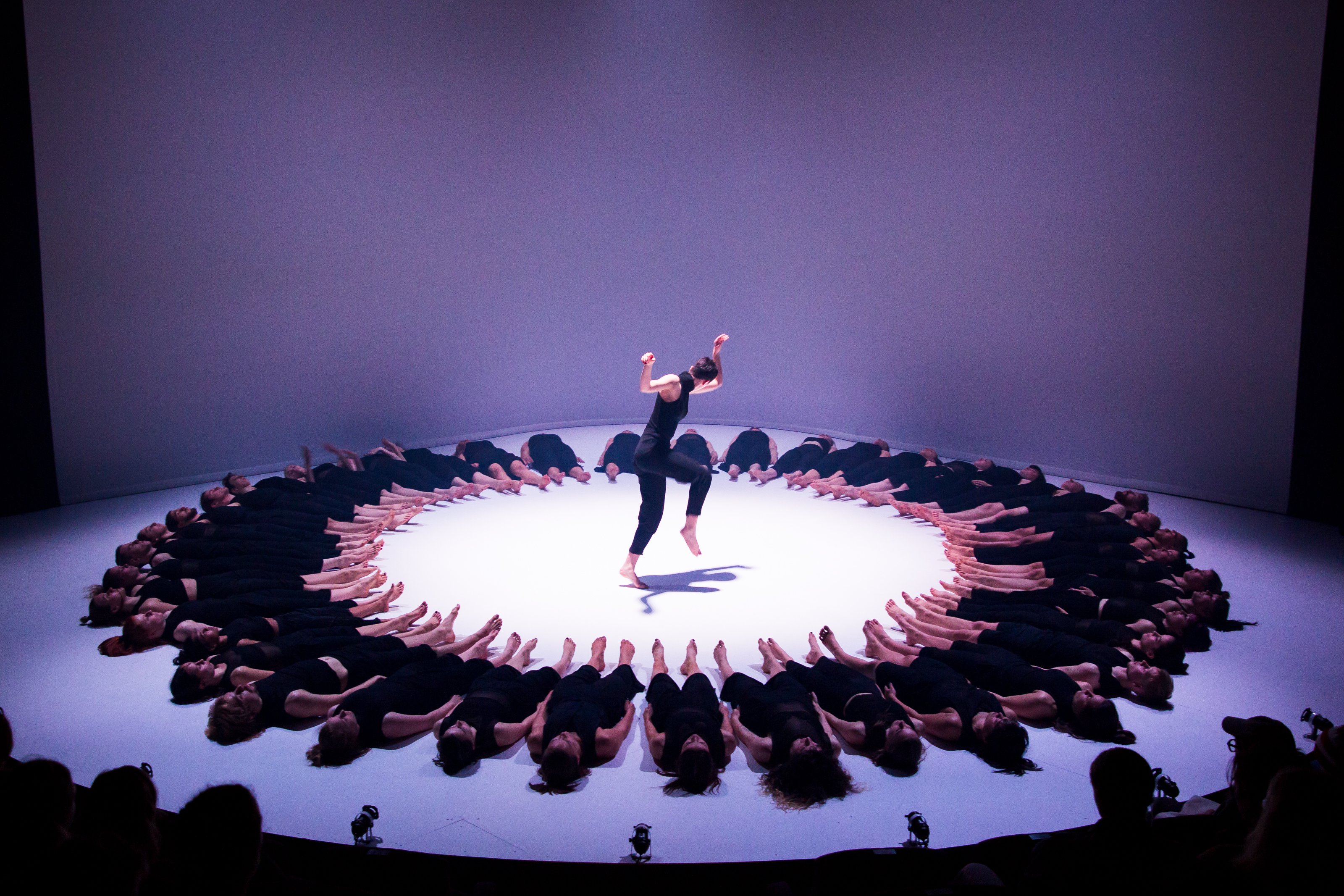 © Mark Gambino
At a time when international touring is at a standstill, the Festival has put together a challenging collaborative dance project, Colossus, created by Australian choreographer Stephanie Lake, with more than 50 dancers from the Hong Kong Academy for Performing Arts.
Creating mass movement that is both organic and spectacular is a hallmark of Stephanie Lake's large-scale public shows, such as her latest, Multiply, performed by 400 dancers in Melbourne's Prahran Square in November 2020.
The Australian choreographer had already taken her monumental scale inside the auditorium with Colossus, an extravaganza for at least 50 dancers, which premiered in Melbourne in September 2018 and was performed at the Théâtre Chaillot in Paris last June. Lake's inspiration was two-fold. "It's about the push and pull of society and the beauty and ugliness of crowd behaviour," she explains. "It's also looking at the grand cycles of nature, the patterns in the natural world; and seeing humans as part of that."
The essence of Colossus lies in the relationship between individuals and the mass. "The group unifies with things happening through strength in numbers," says Lake. "But then an individual takes an action that steers the group in a new direction and the mass either turns on them or joins in. Sometimes the group is like a beautiful flock of birds or leaves on a tree, but at other times an individual figure stands out because it was important to me that the humans within Colossus become more than just abstract forms and that the audience connects with them."
To recruit the numerous dancers required for this ambitious work, the Festival initiated a partnership with the Hong Kong Academy for Performing Arts (HKAPA). Anna CY Chan, Dean of the School of Dance at the HKAPA had no hesitation in accepting the invitation. "It has been interesting for our students to learn the new mode of making productions remotely and it is a great honour for the School of Dance to be part of the 50th Anniversary of the Hong Kong Arts Festival." Around 60 dance students will be drawn from all three of the School's streams— ballet, contemporary and Chinese traditional dance—affirming Chan's unifying cross- disciplinary ethos for the School.
Lake relishes this new challenge: "It's a beautiful thing because Colossus takes on so much personality from individual dancers. I don't want it to be a cookie-cutter replication every time. I love the unpredictability of different interactions with the dancers because it's not controllable and the dancers in Hong Kong bring a different interpretation to those of previous casts."
For Chan, preparation and performance will be an essential part of the educational process. "Performance practice is the core of our whole programme," she says. "Performing Colossus will be crucial personal development for our students and assimilating the environment of a professional company will help to push them to the next level and they will be ready for a professional career when they leave the Academy."
Due to pandemic restrictions, Colossus has been rehearsed entirely remotely. "It's an extraordinary feat of international collaboration and technology," says Lake. "We're doing all the rehearsals on Zoom, which creates a layer of other issues to contend with. It's one thing to deal with problems of a lag in timing when you are setting a small piece but it presents an altogether different scale of problems when trying to assimilate 50 or more dancers over Zoom."
Lake acknowledges that the willingness and optimism of the young dancers are vital to that success. "They're up for it and just get on board. They're also really good with technology; so if things go wrong they can fix it."
"The challenges of reviving Colossus during the past two years have been mind-boggling but it is so worth it because it couldn't have happened otherwise since we can't travel out of Australia," Lake says. "This large-scale work is touring to major stages around the world without anyone getting on a plane. It just feels like a kind of pandemic miracle."
Subscribe to the HKAF eNews and get connected with us!
By submitting this form, you accept and agree to be bound by the Terms of Use, Privacy Policy and Privacy Information Collection Statement available in Hong Kong Arts Festival Website.